Floortech Concrete Coatings
We want to be the best company you've ever worked with. Our team is trustworthy, diligent, and never cuts corners. There is no greater satisfaction to us than a job well done.
When you speak with one of our experts, customer service representatives, or even our founder, you'll see their genuine desire to assist our consumers.

You're curious about what we offer and how much it will cost. That's precisely what we'll do.
We don't hide behind obfuscated pricing or sugarcoat the solutions available for your specic environment. We respect you much too much to do so.
We'll provide you with honest answers and total transparency about project pricing.

Our team has extensive industry expertise and years of experience. That means we can offer you durable, beautiful, and easy-to-maintain floor coatings at a reasonable price.
You deserve a team as committed to your floor coating project as ours.

We respect your time and will never keep you waiting. We want your installation to be as easy and stress-free as possible. We'll arrive precisely on time, get to work, and accomplish the project within the specied time frame.

Throughout the installation procedure, the Floortech staff will maintain your space as clean and clutter-free as possible.
It takes extra effort to maintain a clean workplace, but the effort is well worth it because your satisfaction is our priority.

We take pride in providing you with the finest quality services and products. Our professional installers complete all floor coating operations, and we use the best equipment and supplies available for the job.

At its core, our workforce is solution-oriented. So, regardless of the particular obstacles of your profession, location, or situation, we'll work hard to build a solution just for you.
We have the necessary experience and adaptability to ensure that the project is always completed.

If we ever make a mistake or fail to live up to one of our beliefs, we will do all in our power to set things right. You deserve a dependable, competent team, and that is precisely what we strive to provide.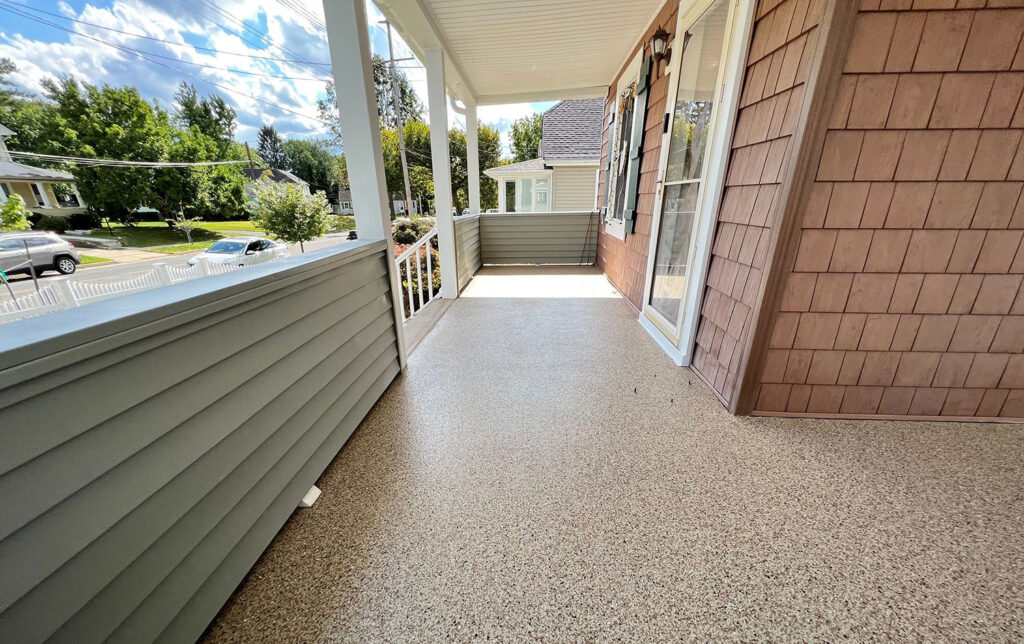 Now serving clients throughout Virginia and beyond.
Floortech Concrete Coatings, founded in 2020 by Sorin Mihalcea and Claudiu Bota, has provided outstanding floor-coating solutions to residential, commercial, and industrial customers for over sixteen years.
We've developed our firm from the ground up to establish trust with our clients, train our installers to the most excellent standards, and provide exceptional customer service. Our company has developed signicantly since its inception due to these commitments.
Why Do Our Clients Do Business With Us?
Numerous companies provide concrete coating services.
Why are they so pleased with our service, and why do they continue to entrust us with further projects?
Simply put, our crew is one-of-a-kind. We are a collection of people dedicated to giving our customers the best business experience they have ever had. We enjoy seeing the happy faces of our customers when we have done our task and exceeded their expectations.
Trust is essential to us. Your trust in our staff, which we work hard to earn, will make your installation experience enjoyable.
And at Floortech Concrete Coatings, we look for people that share our values and passion.
Though our projects are often completed in a day or less, our business ties, founded on trust and respect, remain for many years. We enjoy what we do and are excited to work with you.
We've built our business from a foundation of core values: Integrity, Transparency, Excellence, Punctuality, Cleanliness, Quality, Flexibility, and Reliability.
To us, these aren't just buzzwords. They're guiding principles that sit at the center of our culture, our work – everything we do.
We promise to deliver on these values for every one of our installations.
FloorTech Concrete Coatings
Average rating:
0 reviews