Floortech Concrete Coatings
Premium Floor Finishes That Will Last a Lifetime
We offer high-performance floor coatings for residential, industrial, and commercial use.
When it comes to oors, you must install floor coatings that are long-lasting, aesthetically pleasing, and low maintenance. Floortech Concrete Coatings meets all your requirements by offering a diverse choice of high-performance flooring products and services. We provide flooring services for residential, commercial, and industrial customers. Our objective is to make our customers wholly delighted by transforming their dull space into a magnicent one that provides outstanding services. Our scientically developed coatings are designed to last and withstand the harshest situations. Finally, our installation specialists guarantee that your space will be ready to use in as little as one day! Let's learn more about the floor treatments we provide at Floortech Concrete Coatings.
Polyurea Floor Finish in a Solid Color
If you need a flooring coating that can resist the harshest circumstances and high-temperature variations, the Solid Color Polyurea Floor Finish is an excellent choice. The Polyurea floor nish is exible and can withstand freezethaw cycles due to its unique formulation.
Other advantages of using Polyurea Floor Finish include: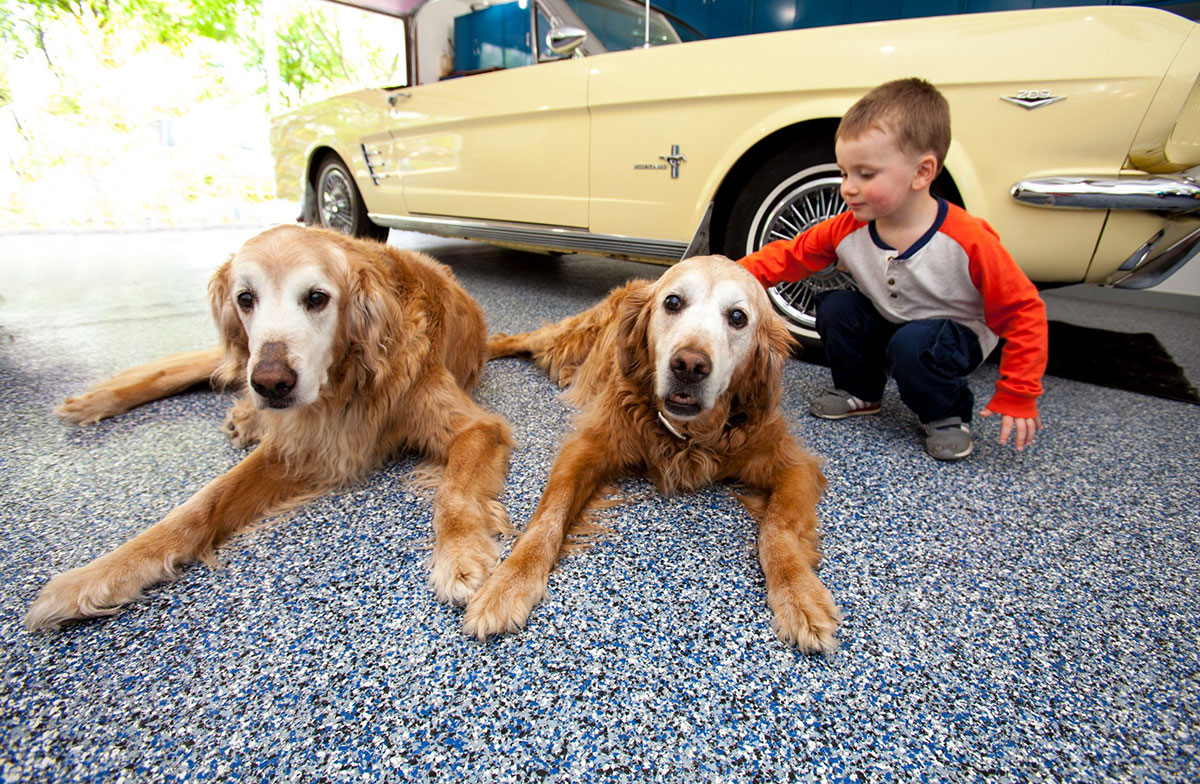 The Chip Floor Finish is the most excellent flooring solution for places that demand maximum visual impacts, such as schools, businesses, and manufacturing. The chip floor finish has an orange peel appearance that adds durability and skid resistance to your floor.
The following are some of the advantages of using the Chip Floor Finish:
Metallic floor surfaces are eye-catching due to their gleaming appearance and are ideal for showrooms, restaurants, and other commercial settings. They come in a variety of hues, giving you a variety of options.
The advantages of superior metallic floor finishes are:
Floor coatings that can endure high-temperature variations are required for commercial and industrial applications. In this situation, the Quartz floor finish is an excellent choice. They are long-lasting and help to minimize slip accidents because the coating is skid-proof.
Some other benets of Quartz Floor Finishes are:
Get In Touch With Us For Premium Floor Finishes
Floortech Concrete Coatings is dedicated to assisting our customers in locating the ideal concrete coating finishes for any commercial, industrial, or residential application. We ensure that you will receive the highest quality products and services, with products designed for maximum durability and performance. Please fill out our free quote form or call our specialists to learn more about our products and services at Floortech Concrete Coatings